Product Specification:
Material: aluminum alloy
Weight: 200 grams
Size: 19 x 2.5 x 13.5 cm
Long Nozzle: 112MM
Model: 9040-4
Air Inlet: 1/4" NPT
Operating pressure : 90PSI
Max. pressure: 150PSI
Noise rating: around 100 db

Features:
1. Short nozzle+long nozzle: two different sizes of nozzles, different environmental conditions can be freely selected for the appropriate nozzle, short nozzle suitable for narrow conditions, and 112 mm long nozzle can reach more in-depth place.
2. Variable pressure regulator: by twisting the Exhaust machine behind the dial can adjust the pressure.The normal work of the Exhaust machine is 6.3 bar, and the maximum pressure can be adjusted to 10 bar.
3. Scratch protection: The long nozzle is equipped with a safety nozzle tip to prevent the nozzle surface from scratching. While the gun body has a non-slip and cold insulation function of the handle. Even in cold weather, dirty hands can work properly using the exhaust machine.
4. Easy installation: special gun mouth and interface, easy to install and split, compact and easy to carry.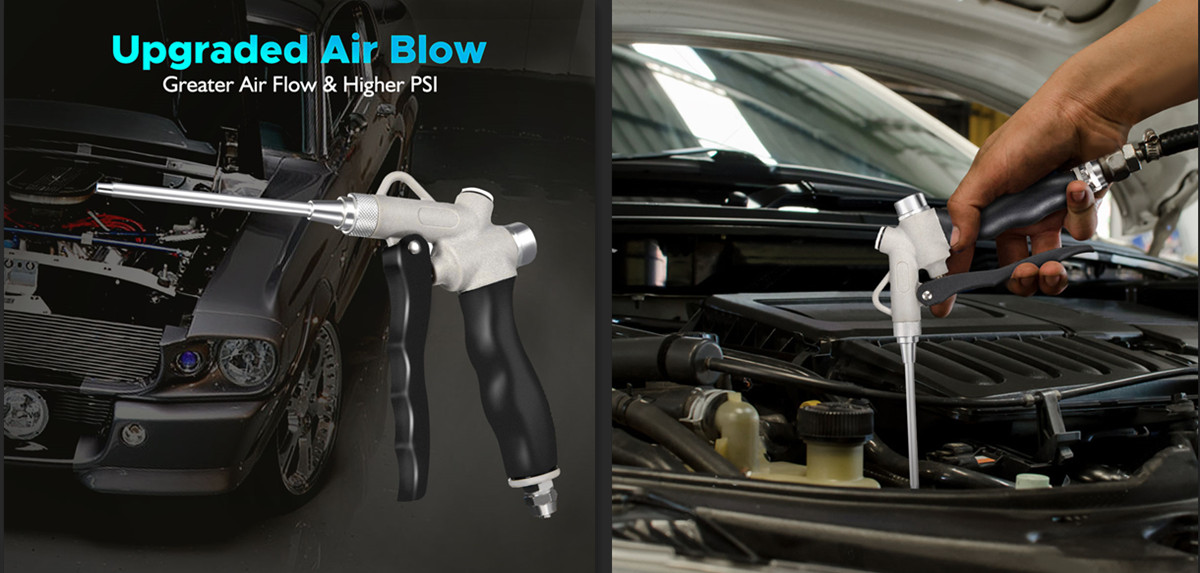 Use:
Exhaust machine is mainly used for the installation and maintenance of vehicle equipment , suitable for the cleaning of the narrow and deep place where the hand touch can't be touched.. Pneumatic dust gun is the use of air amplification principle, effectively reduce the consumption of compressed air, resulting in a strong and accurate airflow, and drive the surrounding air together.

Note:
Pay attention to safety during work
Work process should pay attention to the splash to the surrounding scatter.

Package Included:
1X Air Blow Gun Tool