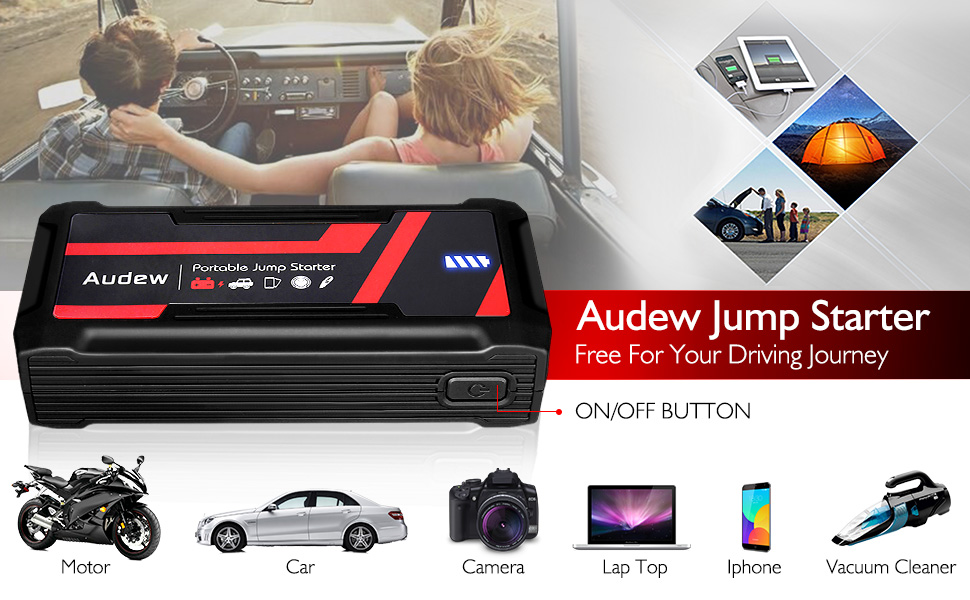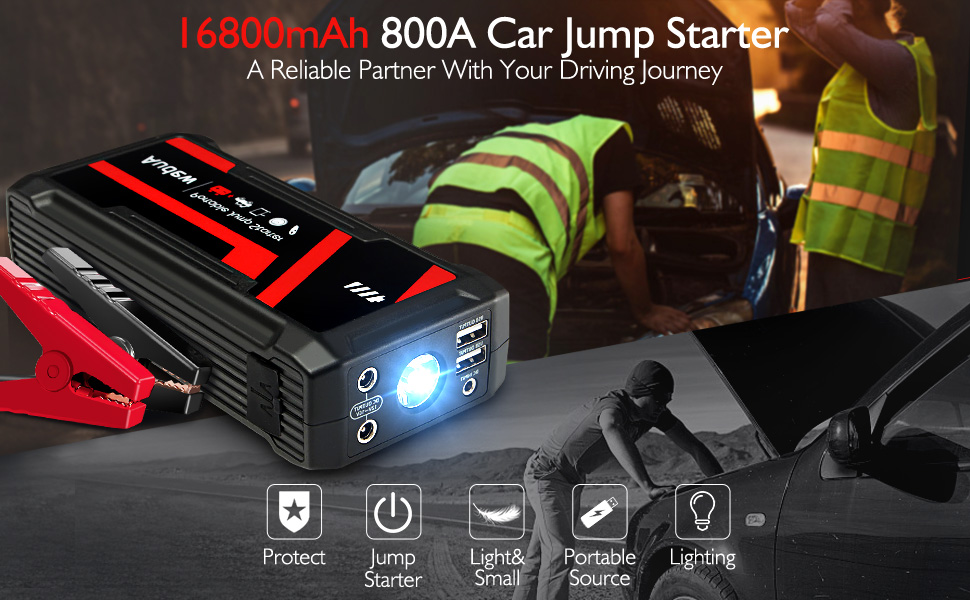 Specification:
Portable car jump starter with multiple function of power bank,USB2.0 output
16800mAH 3.7V High capacity li polymer battery pack,high c rated,
EC5 standard starting output port,Cranking ampere is 600A
Cold current is 800A(up to DC 7V output )
4 LED battery indicator
Built-in 1W LED light, with illumination
Battery Li polymer battery, High C rated battery
Capacity: 16800mAh 3.7V ±5%
Circle life: >300 time(remain 85% charging efficeincy)
Battery indicator: 4 LED battery power indicator
Power indicator: No
Charging current: 5V/1A
Starting clamps: Aligator clamps with big current protection system
Emergency light: 1W LED white light
Charging time: 6 hours
Main unit N.W.(g): 580g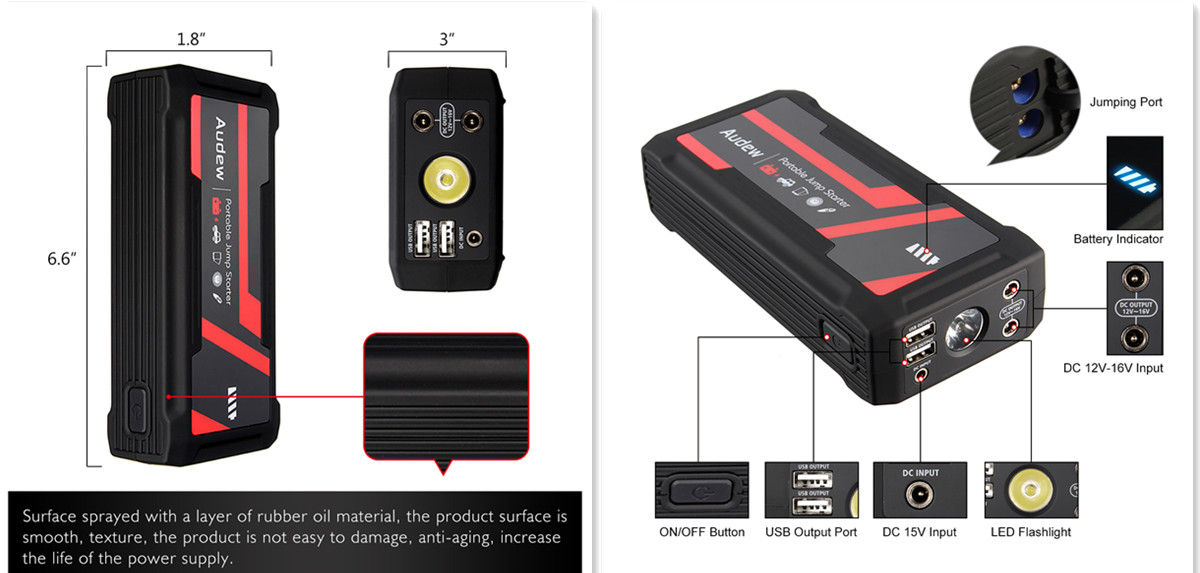 Input:
DC(Φ 3.5mm)input X1 15V/1A
Output:
USB A type X1 DC 5V3 A (Max)
DC output X2 DC 12V-16V/ 15A
EC5 port X1 8~12V 800A(peak ampere)
3 modes.
DC high power output for all portable car electronics,DC 12V-16V / 15A
USB ouput wake up automatically, 30 seconds power off if there is no connected electronics
Charging voltage:9V-19V
Over load, over voltage, reversely connetion protection
attery over charge and low voltage protection
Built-in big current protection system, reversely connection, short circuit protection
NOTE:
1. Don't jump start any engine that exceed the maximum displacement the unit can bear, or it will cause serous damages to the unit.
2. If less than 25% charged, it may not be able to start your engine.So please recharges your jump starter in time.
3.Because of the high power discharge,the jump starer must reserve some power to start your car so it unlike a powerbank which can charge your its capacity
4. Don't connect the positive and negative polarity together when it's power on. Don't crank the engine for more than 4 seconds. Allow the jump starter to cool down for at least 30 seconds after each jump-start.
5. Read the instruction carefully before using.
6. it can only supply power for laptop, but not charge the laptop battery. The laptop's volt should under 16V)
7.Please recharge the product every 6 month at least one time though you don't use it at all. If you can recharge it every 3 month, it is much better for battery life.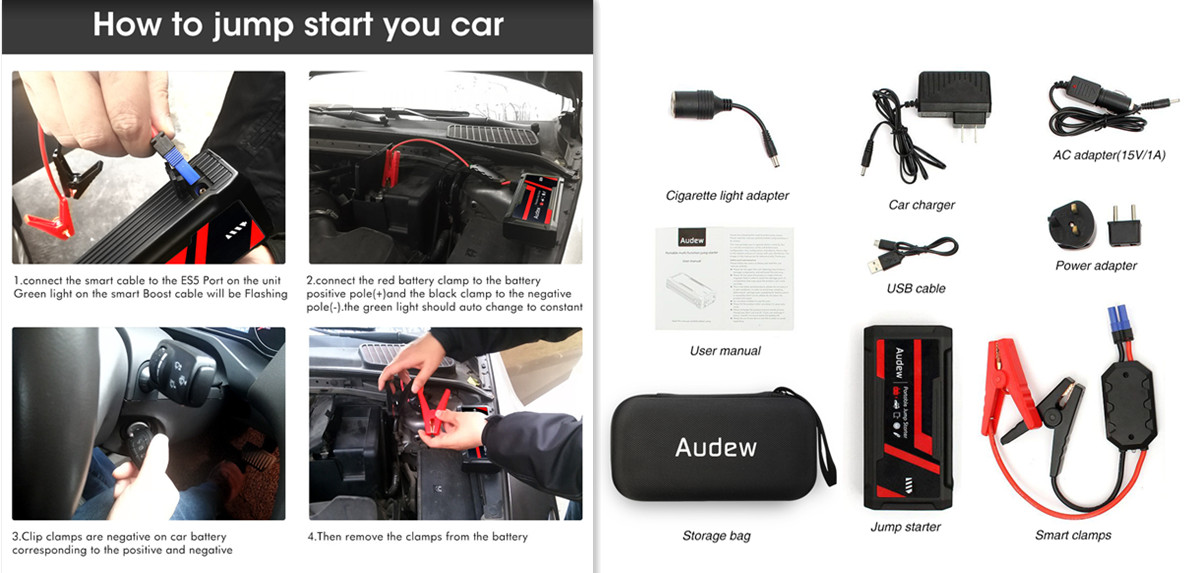 Three lights lighting / SOS rescue
Flashlight mode: open the NO / OFF button, after a long press 3 seconds to boot, turn on the flashlight mode
Blink mode: In the flashlight mode, press again to turn on the blink mode.
SOS Rescue: In blink mode, press again to turn on SOS mode

Package:
1 x jump starter
1 x Smart clamps
1 x AC adapter(15V/1A)
1 x Car charger
1X User manual
1 x Storage bag
1 x Cigarette light adapter
1 x 1 in 8 laptop charging line (Note: it can only supply power for laptop, but not charge the laptop battery. The laptop's volt should under 16V)