Product Description
Product Specification
Reviews (19)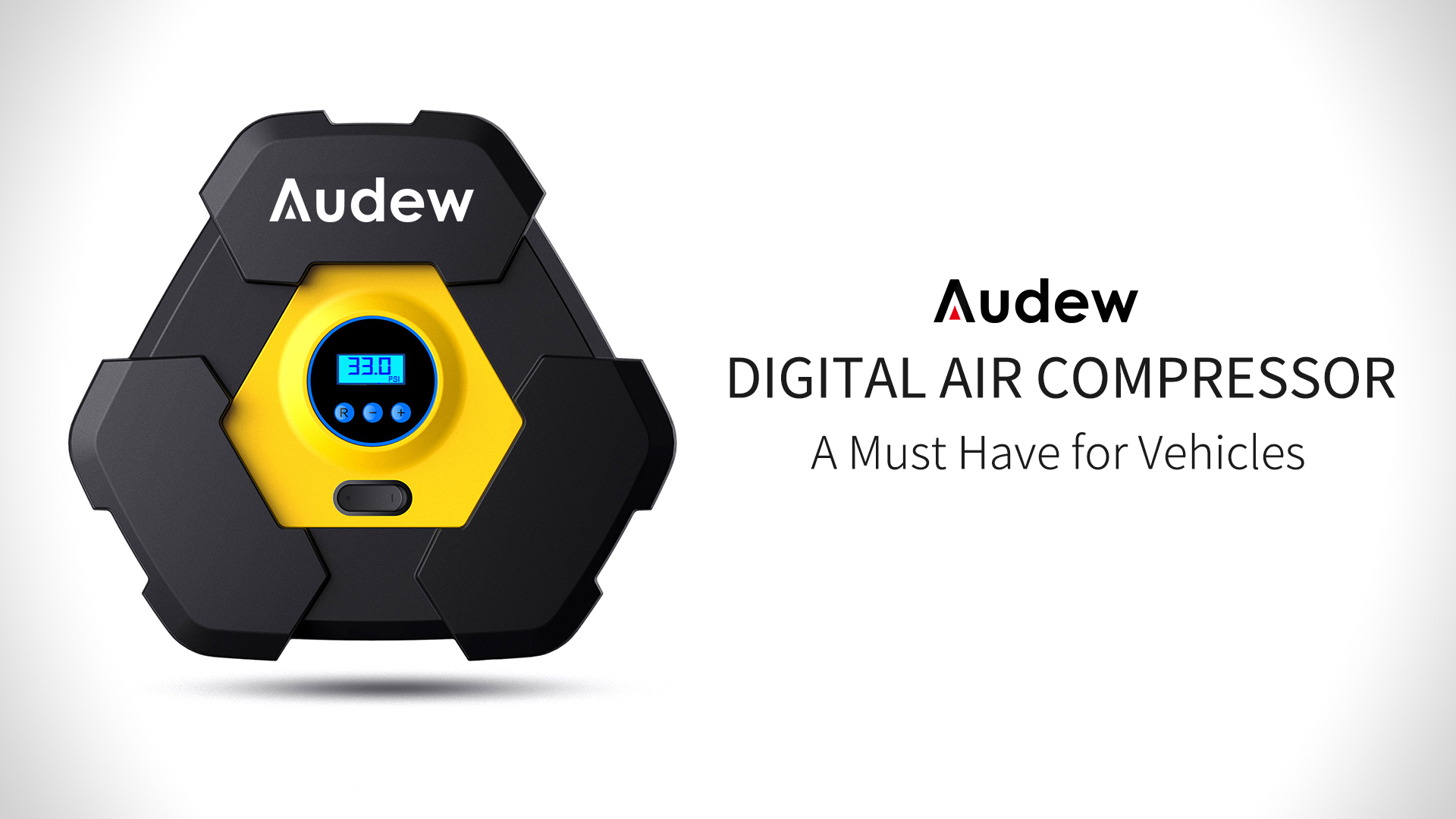 Small but Powerful, Fast and Simple with Added Bonuses for Convenience and Versatility
Features:
Safety and Durable : Pass multiple repeated safety testing; with high-speed cooling, to ensure the life of the movement.

Inflate tire quickly with strong power, improve efficiency and save your time.

LED Lights: Audew digital tire pump is equipped with bright and long-lasting LED lights for easy night use.
Convenient and easy to use
ONE KEY TO INFLATE : Open the "I-O" key to start the inflatable pump.

COMES WITH HIGH-PRECISION DIGIAL TIRE PRESSURE GAUGE (While inflatabling can grasp the tire pressure situation )

3M LONG POWER CORD : Can be easily connected to front and rear tires.

HIDDEN CORDS : Easy storage without mess.

AUTO SHUTOFF : This intelligent tire inflator auto shutoff after reaching your input for PSI.

COMPACT & LIGHTWEIGHT : Easy to carry, be your emergency helper.
Directions For Use:
Insert the cigarlighter plug into the car's DC12V jack and start the car.

Put the inflatable nozzle on the tire that needs to fill the air.

Key Description: R key for the unit conversion key; "-" for minus key; "+" for plus key, any press for the "-" or "+" will lead into the default value mode.

The inflatable pump inflated default value defaults to 30PSI, if you want to set the default adjustable button (+ key up, - key down, Maximum pressure 100PSI)
Tips: It's better to cool it down for 3 minutes after continuous working for 8 minutes.

Customer Reviews
Average rating:
(19 Reviews)
Write a review
October 18, 2018

satisfied

The AUDEW air compressor pump is equipped with different tips and power cords. It can inflate my truck and my son's bicycle. I don't regret having such an air pump, it looks so small, I can take it anywhere.

October 18, 2018

Small air pump

This is an air compressor pump that I can rest assured. I just need to set the required pressure, then I will leave it alone. It will automatically turn off when it is finished. It will make my Ford Ranger run very well every time.

October 18, 2018

portable

How portable is the Audew air pump, it is placed in my trunk, no need to occupy any place

October 17, 2018

very safe

This is the most suitable air pump I have ever owned. It is not only convenient but also very safe.

October 17, 2018

Audew pump

If you have cars, bicycles, motorcycles and all kinds of items that need to be inflated, you only need to have this Audew pump, you don't have to worry about anything.
Load more
Success!Your review was submitted!