★Firmly Cling-On: The Sunshades made by lightweight special static mesh fabric, supported by Super Static Cling Technology that keeps sunshades firmly adhere to the side windows without bulky suction cups while keep a long-lasting hold. Reposition and removal is also easy.
★Perfect Fit For: car rides with kids & pets. Our high visibility sun protector provides SPF 30+ Protection, and at the same time keeps passengers cool. Proven to keep your car cooler on sunny days. When we design a car product, safety is always to be our first priority. KALMORE car window sunshades effectively guard your car/van/SUV (or other vehicle) side and back window without blocking the driver's view, or the baby car mirror.
★Compact Design: It comes with a free compact travel pouch. Installs and folds in seconds without any suction cups or adhesives.
★Maxmum UV Protection: The 80 GSM (Highest possible) protective mesh shades block over 98% of harmful and strong UV Rays with special UV resistant technology providing a temperature-isolation effect to keep you cool and comfortable sitting next to the window in hot weather, meanwhile protecting your baby from UV damage in baby seat.
★Mesh Material: Auto rear window sun shade is made with lightweight UV guard mesh. It doesn't block view but only block bright light as well as heat under hot sunny weather.

All New Brand!Audew Car Sun Shade Protection 4Pack

Features:
Size: 48 cm x 31 cm
Weight: 25g

Package Includes:
4 x Shades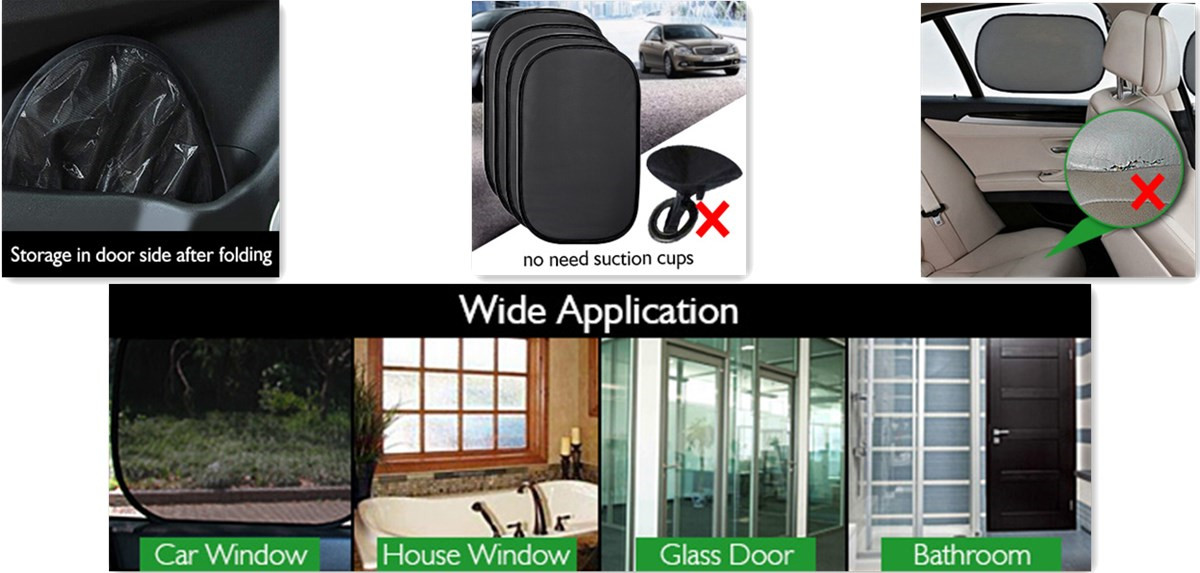 Notes:
1. Dust is the main factor for the loss of static effect. In such case, simply rinse the shades with cold water and wipe the window clean and it should be as good as new!
2. It is normal to see wrinkles on the shades when you first receive them. This is the nature of the cling material and happens during storage. But it should open up nicely after a couple of days.