Product Description
Product Specification
Reviews (608)
Size:185'' L/ Size:XL 204''/Size:XXL 210''
Applications:
Suitable for most SUV cars, but depending on the size of the product, please carefully comparing your car.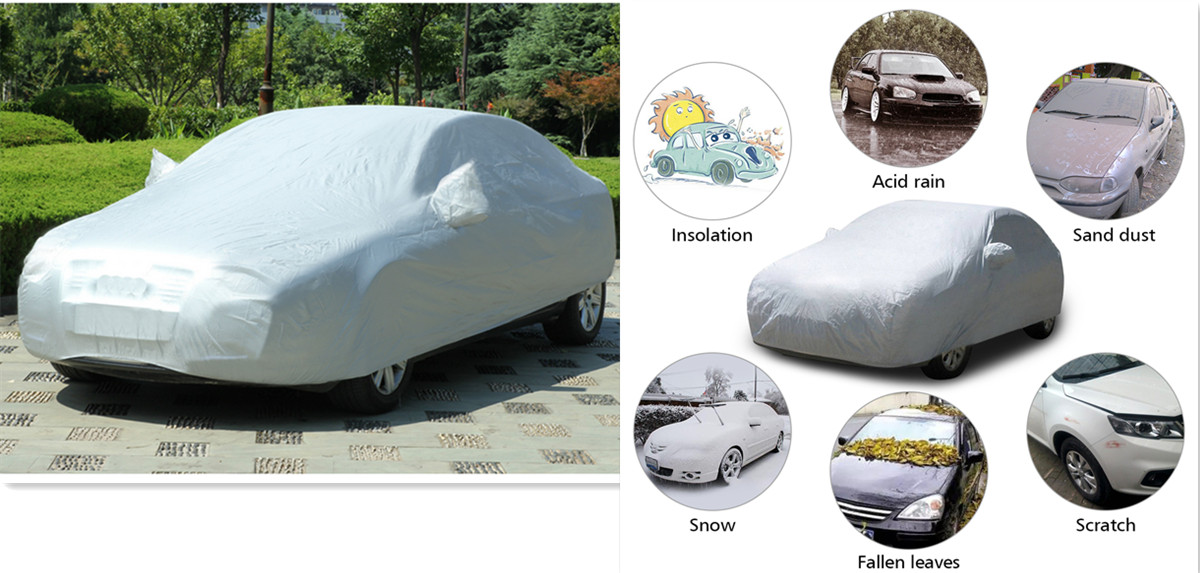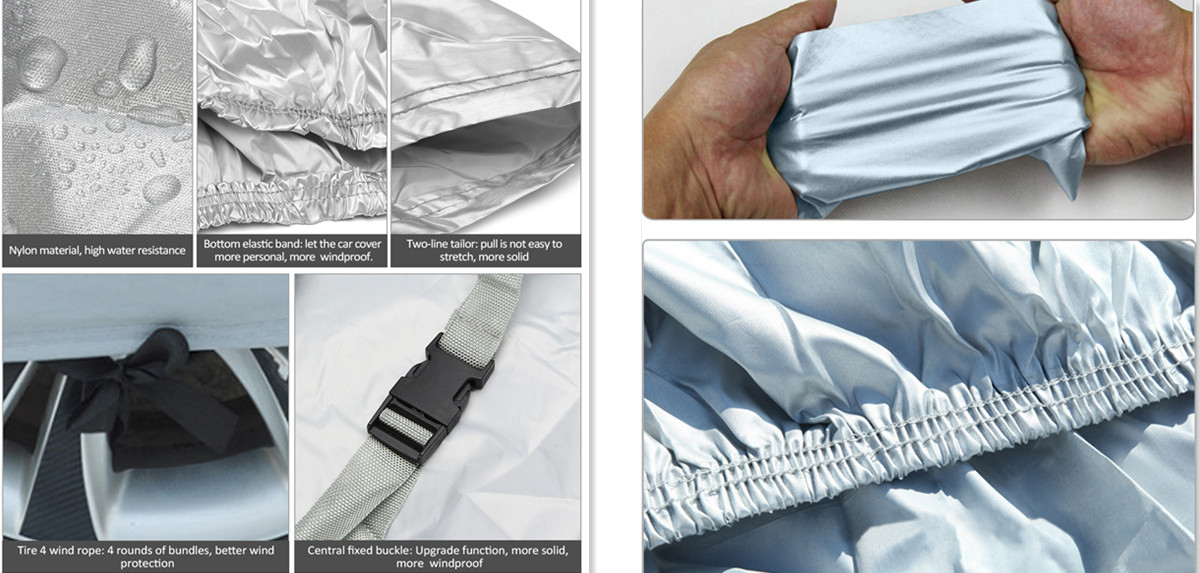 Specifications:
Material: 190T polyester fabric, with insulation effect a few digits.
Silver color
Size:
L: 4.7m x 1.8m x1.85m (W*W*H)
XL: 5.2m x 2m x 1.8m (W*W*H)
XXL: 5.3m x 2.0m x1.8m (W*W*H)


Characteristics:
This product has sun, heat, etc., with silver hardware, as long as you install the glass block after the latter block in front of the parking time you can make your car to keep in a cool state , Make you driving life more comfortable, safer and healthier.
1. Car Cover Protection, capable of preventing harmful dust in wagons and machine parts, their resistance to aging and machine use and the inner tear of the wagon.
2. Car Cover Protection, can effectively prevent snow from urban pollution in the acid conditions of the car surface brutally tortured.
3. Car Cover Protection, can effectively withstand heavy ultraviolet radiation damage to paint the inside of the tire.
4. Suitable for dust, rain, warm seasons of summer, or long-term use in the car.

The package includes:
1 x Car Cover SUV
1 x storage bag
Size :

XL

Size :

XXL

Size :

L
Customer Reviews
Average rating:
(608 Reviews)
Write a review
October 18, 2018

Perfect for my BMW

Got this to cover my BMW that I barely drive but just sit on the street, it hurts when I see all dirt and dust get around my car, so I got this cover, and it fits perfectly! Now I won't have to worry about the climate

October 18, 2018

It' s perfect!

this product is much better than I expected. Love it. great fit.

October 18, 2018

Good product!

I had it to cover my Ford Fiesta,easy to put on and take off ,good rain repellant cover.

October 18, 2018

Works greatly.

I need a cover for my 2017 Camry,so I purchased Audew car cover,I think it works greatly for me.

October 18, 2018

Useful!

Fits my 2015 honda civic,keep the sun off during the day.
Load more
Success!Your review was submitted!