Product Description
Product Specification
Reviews (34)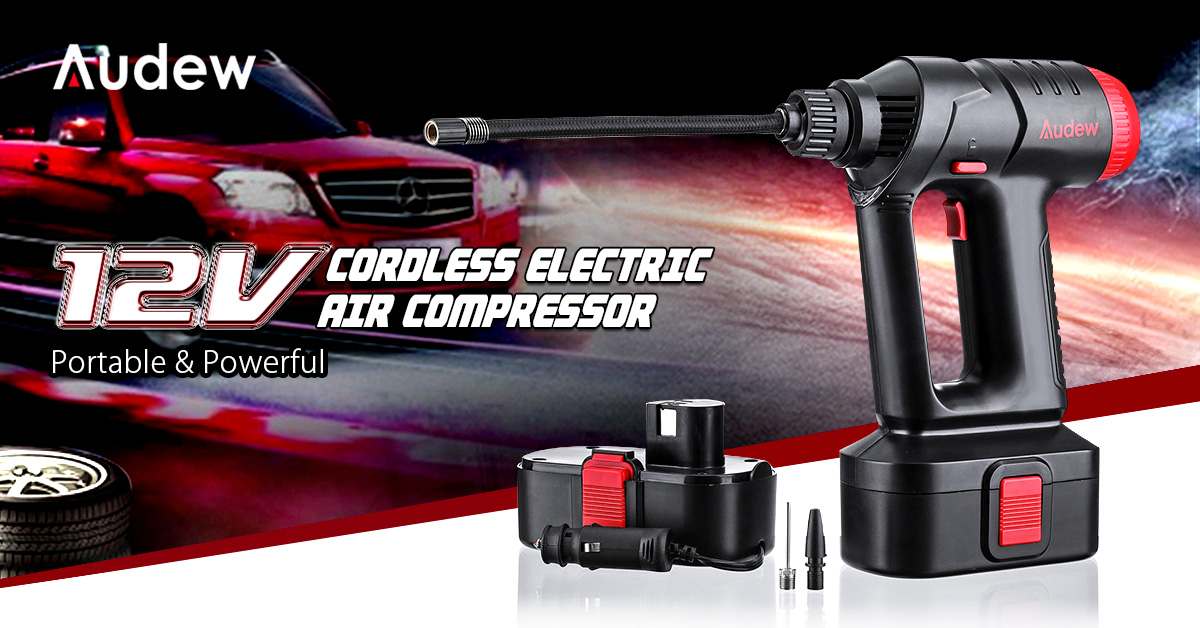 | | |
| --- | --- |
| | |
SPECIFICATIONS
Rated voltage DC-12V
Rated power 120W
Max pressure 150PSI
Maximum current 10A
Inflatable time 10mins ( 0~35Psi )
Cable length 3000±100mm
Air hose length 180±20mm
Size 239*190*80mm
Weight 1.3kg
POWER SOURCE
The air compressor can be powered by both the Li-ion rechargeable battery and the 12V cigarette lighter adapter.
INFLATING A CAR TIRE AND BICYCLE TIRE
1. Loosen the union valve from the air nozzle.
2. Insert the pressure hose with thread connector into the air nozzle and tighten the union valve.
3. Press 'M' button to choose desired pressure format BAR, KPA.PSI. kg/cm².press the 'M' button cycles through the pressure format.
4. Screw the thread connector onto tire's valve stem. When connected correctly the gauge will display the tire.
5. Press "+" or "-" to check pre-set level. Adjust to desired level by pressing "+" or "-". Once pre-set pressure is set, wait a few seconds for display to change back to zero.
6. Unlock safety switch and press the trigger.
8. Your compressor will now inflate your tire to the pre-set pressure level, and will shut off automatically.
9. Turn off the air compressor by pressing the trigger once.
10. Remove the thread connector from the tire.

GENERAL SAFETY MEASURES AND PRECAUTIONS THAT APPLY
Safe operation of the air compressor requires that you read the instructions and safety pre-cautions carefully and follow all instructions before using the air compressor.
1. The air compressor must not operate for more than 15 minutes at a time, after which it must be switched off and set aside to cool for at least 15 minutes before restarting.
2.If the air compressor emits abnormal sounds or overheats,turn it off immediately and check it out.
3. Never expose the air compressor or battery to rain, frost or temperatures above 50°C(122 F). Never change the battery in humid or wet locations.
| | |
| --- | --- |
| | |
Customer Reviews
Average rating:
(34 Reviews)
Write a review
October 10, 2018

Great air pump for tires.

I love this wireless air pump tool. I often for to go to nearby station to fill air in my flat tire. There is a small leak on my tire that need me to pump air in my tire every few days. I has an electric pump that helps me inflate my tire without going to the gas station, but it is slow, loud, and somehow inconvenient. This one is powerful and fast. It can also use on something else that require higher pressure.

October 06, 2018

love

First I was not sure if these is good or not, but I thought I would give them a try. They're awesome!!! I am glad otherwise will missing such a great item.

October 06, 2018

AWESOME

Works perfectly. Keeping it in my car.

October 05, 2018

Perfect

This wireless air compressor are very lightweigh and easy to use. Everyone should have one for your own vehicle. Save a lot of time to look for gas station .

October 01, 2018

impressive

This air compressor's performance is very impressive, it can quickly inflate the bicycle tire within minute. Huge battery life, i've only charge it once since it arrive, used many times and it has more than half of battery life left.
Load more
Success!Your review was submitted!