Product Description
Product Specification
Reviews (0)


Specification:
Material: Plastic ABS
Type: Cigarette lighter car vacuum cleaner
Weight: 1.12KG
Vacuum Suction: 4500-4800Pa
Cable: 15ft (4.6meters)
Rated Speed: 3000 (r / min)
Rated Voltage: 12 (V)
Rated Input Power: 120 (W)
Features:
★Strong Powerful Suction (4500-4800Pa)
★Wet and Dry Car Vacuum Cleaner
★Stainless Steel Filter (Removable, Washable & Durable)
★Equipped with 3 Different Nozzles to Meet All Cleaning Needs
★4.6m Lighter Cable, Long Enough to Clean All Area of The Car
★Bright LED Light Helps Clean The Shadowed Places
★Easy to Operate, Lower Noise
★Handheld, Portable, Lightweight

Instructions for Use:
1. The point cigarette plug into the car cigarette lighter socket.
2. The handle at the top of the power switch control key, the control key to push to "open" position can be used to push to "off" is to stop using.
3. Depending on the use of different occasions to replace the nozzle
4. When using the suction surface flat paste the ground, in order to achieve better results.
5. The power control key in front of the front shell device key, down the pressure removable front shell, used or must be cleaned, open the front shell clean the filter to extend the life, clean the filter must be far away from the eyes and ears.
6. The use of this product can not be used for inhalation of burning objects, such as burning cigarette butts.
7. In the case of a wet and dry vacuum cleaner should pay attention to water and wet things, pay attention to the front cover of the water pipe height (capacity), suction height of not more than blocking the water pipe.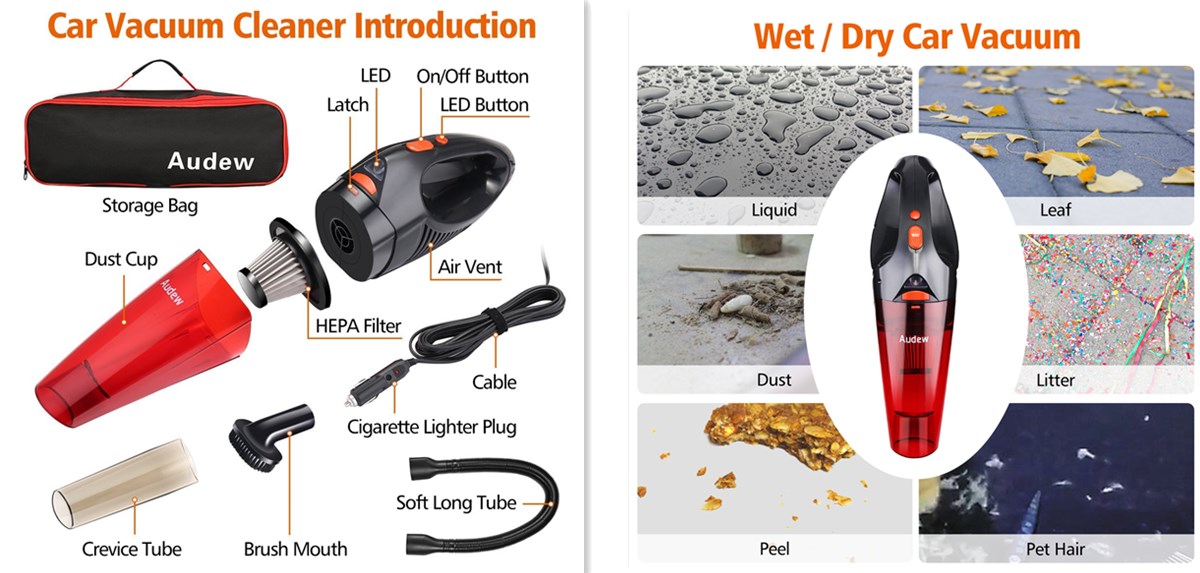 Package included:
1 x Audew Car Vacuum Cleaner
1 x Brush Suction Nozzle
1 x Extension Hose
1 x Crevice Attachment
1 x Power Supply Cable
1 x Carry Bag
1 x User Manual
---
Video From Youtuber
Customer Reviews
Average rating:
(0 Reviews)
Write a review
Success!Your review was submitted!