Audew Bluetooth Transmitter and Receiver, 2 in 1 Car Bluetooth Wireless Adapter

US$

24.99

Wholesale Price

Bulk Buy Discount

Order more and enjoy the savings

Add to Wishlist

Get it For Free
Product Description
Product Specification
Reviews (16)

Audew Bluetooth Transmitter and Receiver
Specifications:
Colour:Black
Material:Plastic
Size:11.50cm*8.50cm*5.00cm
Features:
Bluetooth Version: 4.1
Frequency Range: 2.4GH
Output Power Category: Class2
Bluetooth Mode: A2DP/AVRCP
Bluetooth Range: up to 30 feet
Power Supply: li-po 450mah
Charge Voltage: DC
Charge Current: 300mah

Usage:
Pair to your phone:
1.For the first time using the device as a receiver, you should pair it to your mobile phone.
2.After power it on, short press the button, it will be in the pairing state,blue light flashing quickly.
3.Open the Bluetooth function of your phone, search for the Bluetooth device "BT4842" and connect to it.
4. Enter the code "0000" if needed.
5. If pair successfully, the indicator will light blue constantly.

Connect Two Cellphone
1.Pair the Bluetooth receiver to the first phone.
2. After pair successfully, press the button and it will turn into pairing sate automatically, the blue light will quickly flash few times.
3. Pair the Bluetooth receiver to the second phone.
4.Two phones will pair to it simultaneously.
Notice
The receiver will connect to the last connected phone automatically when it turns on.
(Please make sure enable the Bluetooth function of your phone before turn on the receiver.)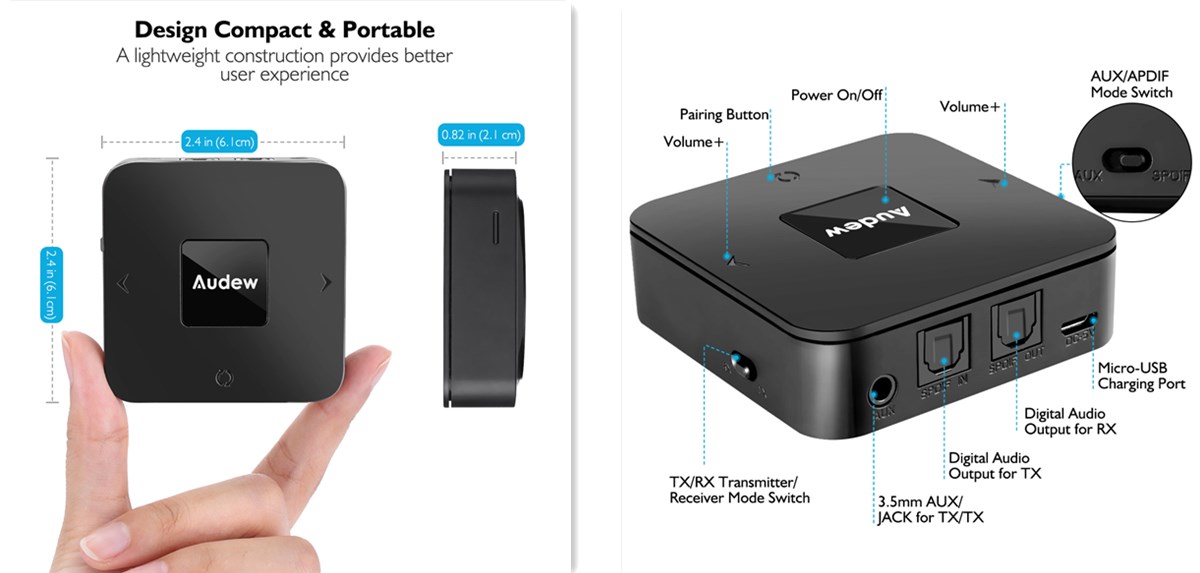 Customer Reviews
Average rating:
(16 Reviews)
Write a review
October 07, 2018

Volume control does not work.

It DOES transmit the sound so at least I know the Bluetooth part works. I bought this for the volume control though and that does not work. I have speakers that do not have their own volume control so anything that transmits to them is full blast. I bought this because it said it had the ability to control the volume. That part does not work at all.

September 17, 2018

Must have!

A must have in my living room. Most everything is connected and "smart" so this device just made sense. Perfect price as much less than something similar at Best Buy.

September 17, 2018

Great service and good device!

I received the device and tested it. The video on Amazon which walks you through the steps was very useful. The TX mode with 2 BT headphones was really good and the reason I purchased this. It is working very well. During the initial stage I had trouble configuring it, but the seller support continued to help and did not give up! Excellent support and a great device.

September 12, 2018

No more cords!

This device gives you your own small wireless network. It allows you to synch various electronic devices without any cords as long as they are in range. This is a must have for anyone with a lot of electronic equipment. This is a high quality product that I highly recommend as well as the seller too.

September 06, 2018
Load more
Success!Your review was submitted!