Product Description
Product Specification
Reviews (0)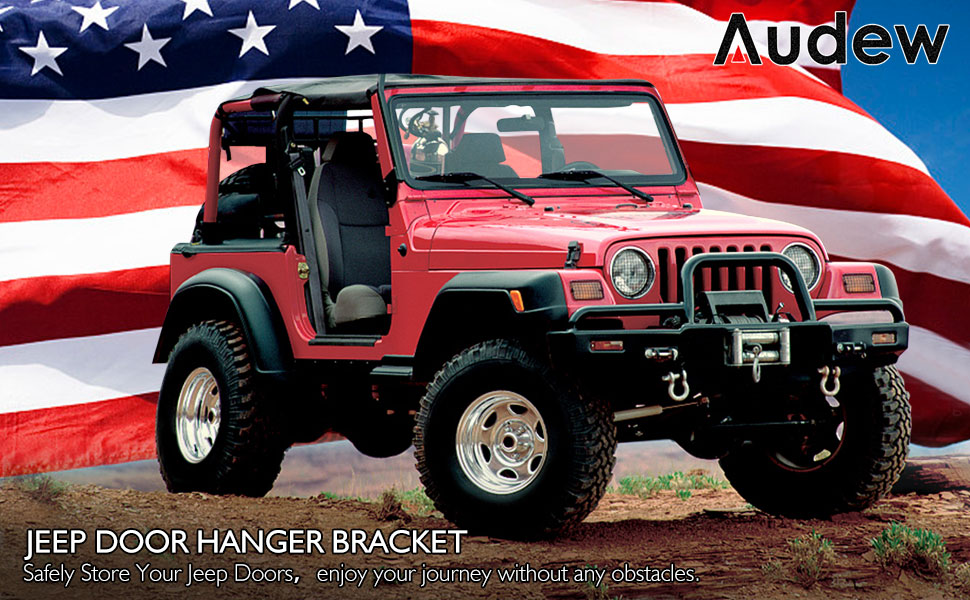 About Audew Jeep Wrangler Door Storage Hanger

Audew Jeep Wrangler Door Hanger rack fit for all Year & Models of Jeep Wrangler CJ/YJ/TJ/LJ/JKU/JL
For the existing hangers, we have improved the design. Each hanger is made of 1/8" high quality protective coated steel.
The number of fixed screw holes is increased to 4, and we have adopted a a stamping structure design at the corners to
effectively increases the mounting strength to securely and securely secure your Jeep door to the wall.
The Jeep Door Hangers fit within the window channel to ensure the integrity of the window seal and prevent the surface finish of the door from being scratched.
You only need 15-20 minutes to hang your Jeep door safely on the wall, and enjoy the beauty and breeze of the journey without any obstacles!

Just two steps to install:
Step1: Drill four holes in the wall of your choice.
Step2: Screw the door Storage hanger to the wall with bolts and washers.

Includes:
2*Door storage hangers
8*Bolts
8*Washers

If you have a 4 door you will need to order a quantity of two

Customer Reviews
Average rating:
(0 Reviews)
Write a review
Success!Your review was submitted!